Adding a Print Button Using the E-Delivery Prompt
The When show option should be set to Custom E-Delivery Prompt

The booth command should be set to "Send to Print"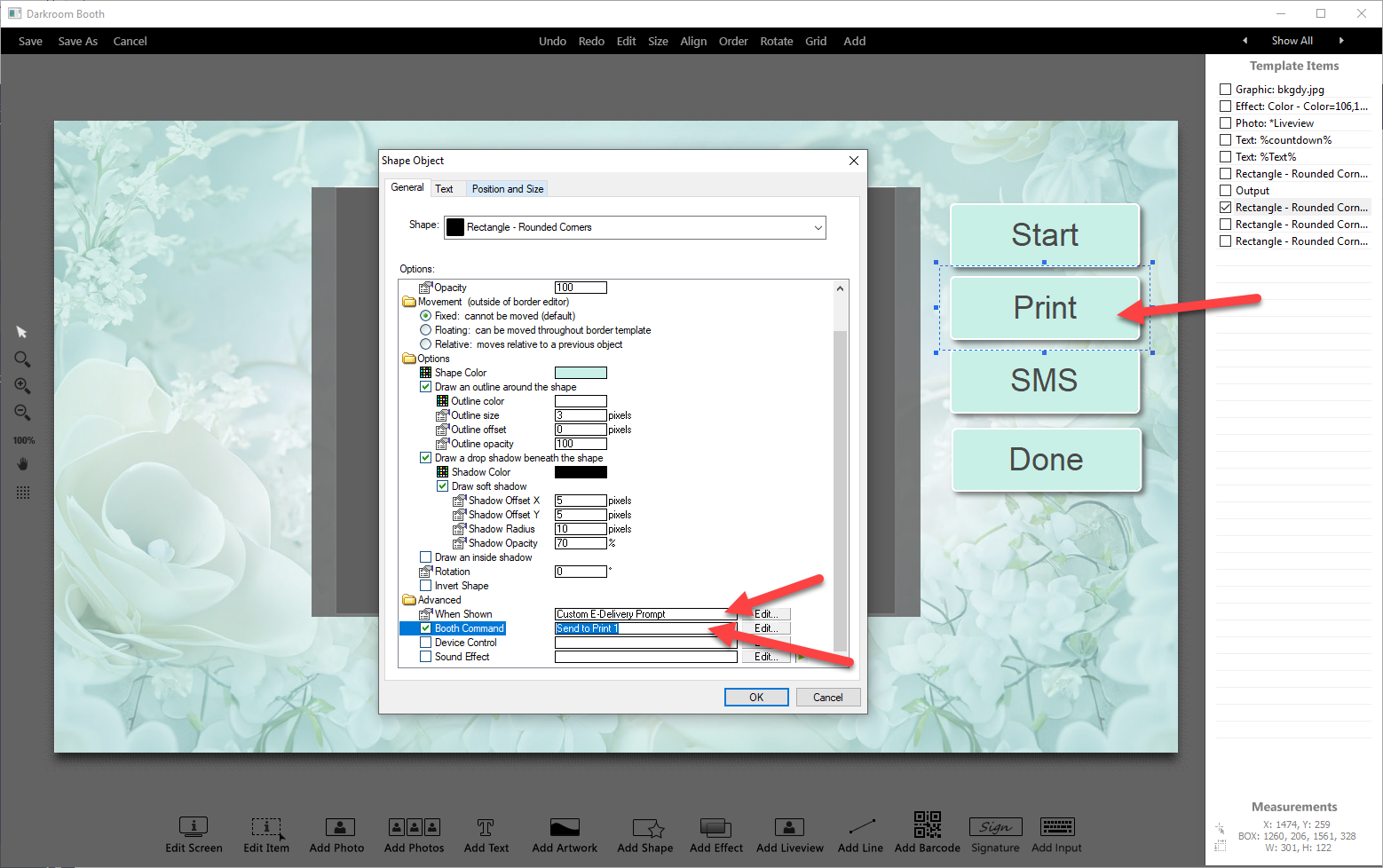 Be sure to enable Photo to Phone and Photo Email 1 as they are required to enable the e-delivery prompt.
If you do not want to offer the option, do not add the button to the screen template.

Related Articles

Share Using a QR Code and the New E-Delivery Prompt

Video Setup Instuctions Event Gallery is Required for this option Add you QR code set to End Instructions and Custom E-Delivery Prompt QR code text: %gallery%/p/%photo1.filename% Makes sure both photo email and Photo to phone are checked to enable ...

E-Delivery Prompts in Booth3

Video Here is a video on how to setup the e-delivery prompts. Sample Template Here is a link to a sample template to help you get started. Download Template Screenshots Set the set to when show option "Custom E-Delivery Prompt" Set the booth command ...

How do I use a Stealth Switch?

To use a Stealth Switch 2 or 3 with Booth for arcade buttons you can simply program the correct hot keys using the Stealth Switch utility available from Stealth Switch. You can also download a configuration file to set the Stealth Switch for Booth ...

How do I add a copies prompt?

Darkroom Booth | Documentation You can add a prompt for copies before or after a ...

Print Signing

To allow the guest to sign their photo using a touch screen or a mouse first design the print template with a defined signing area. In the template editor click on the Signature icon in the lower right (see item 1 below) then resize and place the ...