Core install Issues- The Wizard was Interrupted Error Message
Install the Dongle Driver first

ftp://ftp.cis-app.com/pub/hasp/Sentinel_Legacy/SPI/Sentinel-System-Driver-Installer-7.5.9_Windows.zip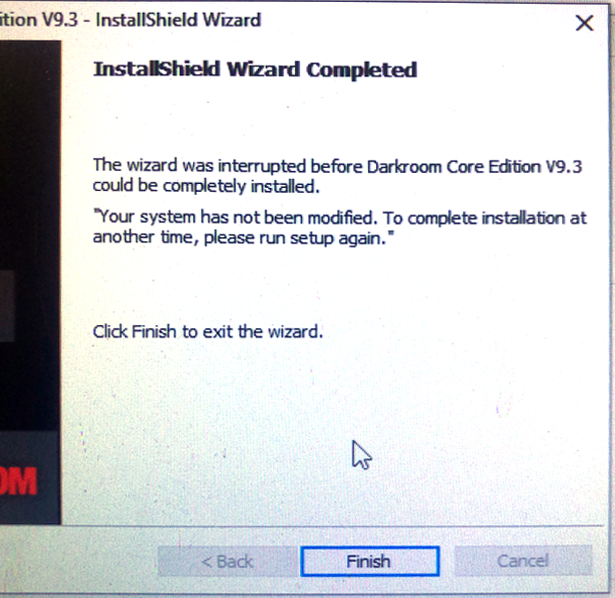 Related Articles

Using HTML Code in Your Email Message in Darkroom Core

You can use html code in you email message that you send from Darkroom Core. Please note* This article has been updated with embedded image samples. Here is w quick video to walk you trough the process. Here is some sample html code that you can copy ...

Windows 7/8 Patch for Darkroom Core (Error- licensing module will not initialize)

If you are using Windows 7, 8 or 8.1 an additional Windows service patch is required to run Darkroom on these older operating systems. Please download and install the service patch for your operating system from the links below. 32 Bit ...

Darkroom Core & Pro 9.3 Downloads and Release Notes

Important: Microsoft has discontinued support of Windows 7 and 8, therefore Darkroom can no longer support these operating systems. For best results, please update to Windows 10. Trial Mode: If you would like to try out Darkroom Core or use an ...

Darkroom Pro, Core & Assembly 9.2 Downloads and Release Notes

Build 9.2.2405 (04/02/2021) Core 9.20.2405 Pro 9.20.2405 Assembly 9.2.2405 Added US Mobile carriers list for email to sms option Build 9.2.2402 (03/10/2021) Core 9.20.2402 Pro 9.20.2402 Assembly 9.2.2402 Fixed An issue logging into a Dropbox ...

Darkroom Core Keyboard Shortcut Guide

Here is a downloadable PDF Version P H O T O L I B R A R Y S H O R T C U T K E Y S KEY DESCRIPTION KEY DESCRIPTION + View More Photos / Decrease thumbnail size V Vertical / Portrait Orientation - View Less Photos / Increase thumbnail size DELETE ...