Missing Guides Darkroom Core and Pro
Extract and add the files to X:\Templates.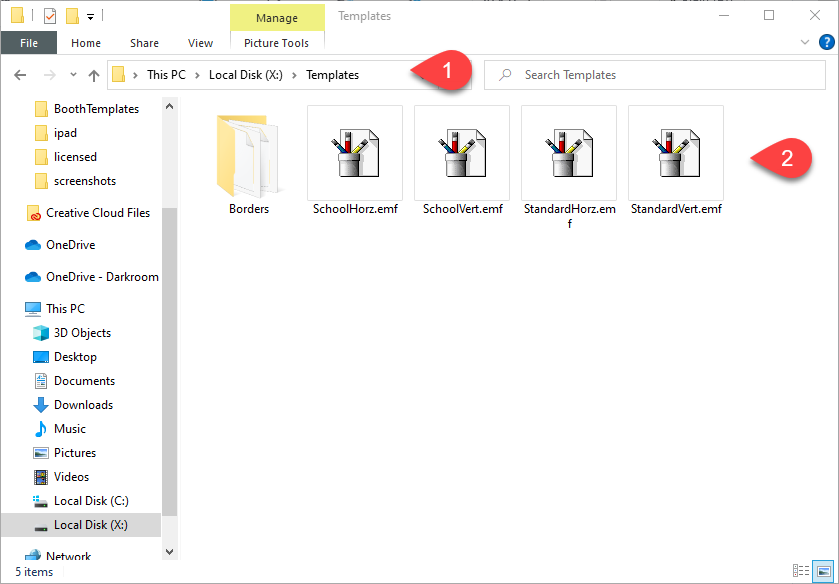 Related Articles

Command Folder Quick Start Guide - Darkroom Pro Only

A "Command hotfolder" is a folder that is monitored for command files which can create complex orders. To enable Command hotfolders: 1. In Setup - Capture Options - Hotfolder and Social Input 2. Click Add. 3. Add a Command Folder ...

Darkroom Core Special Text Guide

Here is a downloadable PDF version. Special Text Description [C] This option will print a copyright symbol: © %COLORCODE% This option will print the color code profile. This is represented by numeric values: 1234567 %COPIES% This option will print ...

Using Templates in a Networked Setup of Darkroom Pro and Core

Saving and Storing templates on a networked setup of Darkroom is including in this guide from 0:25-3:25

Darkroom Core Keyboard Shortcut Guide

Here is a downloadable PDF Version P H O T O L I B R A R Y S H O R T C U T K E Y S KEY DESCRIPTION KEY DESCRIPTION + View More Photos / Decrease thumbnail size V Vertical / Portrait Orientation - View Less Photos / Increase thumbnail size DELETE ...

Darkroom Pro, Core & Assembly 9.2 Downloads and Release Notes

Build 9.2.2405 (04/02/2021) Core 9.20.2405 Pro 9.20.2405 Assembly 9.2.2405 Added US Mobile carriers list for email to sms option Build 9.2.2402 (03/10/2021) Core 9.20.2402 Pro 9.20.2402 Assembly 9.2.2402 Fixed An issue logging into a Dropbox ...