Using Postmark to send email from Darkroom Booth.
Create Postmark account



Add one Server on Postmark (or use the default "My First Server")

Generate a Server API Token for the Postmark Server to be used.


Under Sender Signatures on Postmark, add a domain or signature. e.g. add a specific email address to be used as the "From" email address for messages sent through Postmark.



For the Sender Signature, you have to verify at least the "Return-Path" in order for the sender signature to become active.

In Darkroom Booth, add a Postmark email account in Global Settings - Social Media Accounts.

Copy the API Token and sender email address into the Darkroom Booth settings.

The Sender Name, Reply To email address, and Message Stream are optional and may be left blank.

Try sending a test email message


Postmark accounts start out in "Test Mode". In that mode emails can only be sent to certain domains. For example if you verify @darkroomsoftware.com in your Sender Signatures, then you can only send outbound emails to @darkroomsoftware.com.
You can send one or more test emails using the Test button in Darkroom Booth's Postmark settings page. Once a test message has been sent, you can click the Request Approval button on your Postmark account's menu bar. You will then have to answer a short survey to request approval of your Postmark account.
Once approved, you will also need to specify Billing Details and select a Postmark billing plan.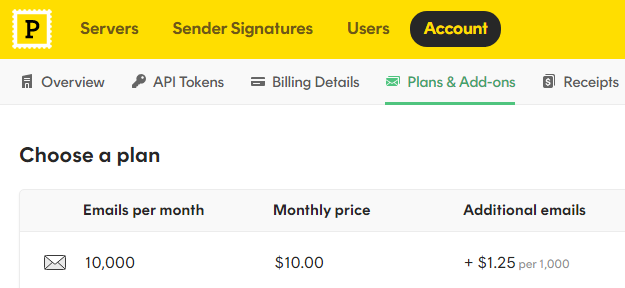 Related Articles

Booth 3 Downloads & Release Notes

Purchase | Upgrade | Maintenance Plan | Trial | Required for Video/Gif 2023 ▼Download Booth 3.0.1176 (06/06/2023) Added • Support for Canon R50 and R8 Fixed • An Invalid Argument error in Device Control • An issue when editing images in a photo strip ...

Using HTML Coding in Your Email Message in Booth.

You can use html code in you email message that you send from Darkroom Booth. *Note- This article has been updated with embedded image samples Here is a short video to help walk you through the process. Here is some sample html code that you can copy ...

I did not have wifi at an event. How do I send the emails now?

Darkroom Booth | Documentation The emails should be queued up and should start sending automatically. You can check your print ...

Limiting the number of copies in Darkroom Booth.

Darkroom Booth | Documentation You can limit the number of copies using a ...

Using Darkroom Booth to Capture and Print Face Masks

Here is a quick video to show you how you can use Darkroom Booth to capture and print face masks. Here is a link to the sample templates and files. http://www.darkroomtemplates.com/face-mask-photo-booth-sample-templates/ Please feel free to modify ...